CATV-151
In stock! Call to confirm.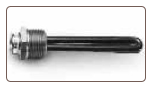 Click to enlarge image(s)
Kim Hotstart Kim-Glo 1500W 120V Direct Immersion Heater

Kim Hotstart's line of In-Block heaters mount directly into the water jacket of the engine. These direct immersion block heaters reduce engine wear due to cold starts by up to 50 percent. Warming the engine to the proper temperature also reduces idling and cranking time, saving fuel and increasing battery life.